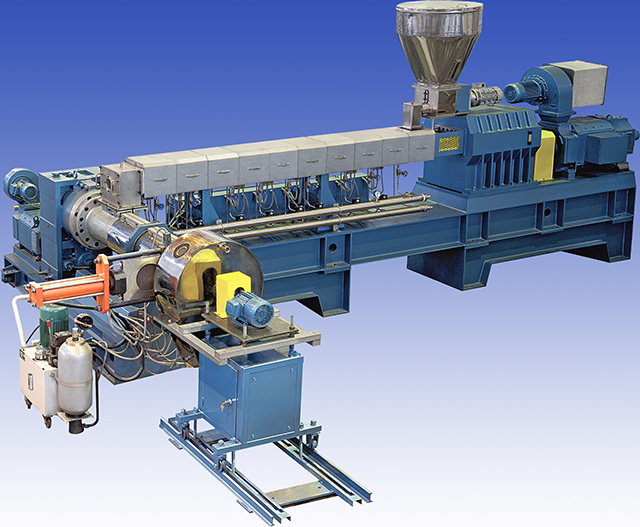 Product Name: double order machine
Product introduction: double -stage units, production of various cable materials: PVC cable materials, low smoke halogen-free cable materials, silane cross-linked cable materials, etc.
First stage is TE co-rotating twin screw extruder, the second is low speed rotating single screw extruder. To combine both extruders together and completely used for heat-senstive materials peleltizing, devolatilization operation and direct forming extrusion.
Twin screw extruder has excellent plastizing, compounding and dispersion. Over-heating and over-shearing can be solved without the die back-pressure. Single screw extruders can cool the melt and extrude them in low speed and low temperature without degrade.
Take advantage of the twin screw extruder and the single screw extruder and increase the operation variables and capacity.
Application:All kinds cable pelletizing: PVC, LSFH, cross-linking cable.Wood plastic compounding

Parameter table
Model

Diameter(mm)

L/D

Speed(Rpm)

Power(kW)

apacity(kg/h)

TS50-120

TE-50

50.5

24-48

500

37/45

100-300

SE-120

120

7-20

85

30/37

TS65-150

TE-65

62.4

24-48

500

55/75

200-500

SE-150

150

7-20

85

37/45

TS75-180

TE-75

71

24-48

500

90/110

400-800

SE-180

180

7-20

85

45/55

TS95-200

TE-95

93

24-48

400

200/250

700-1500

SE-200

200

7-20

85

55/75